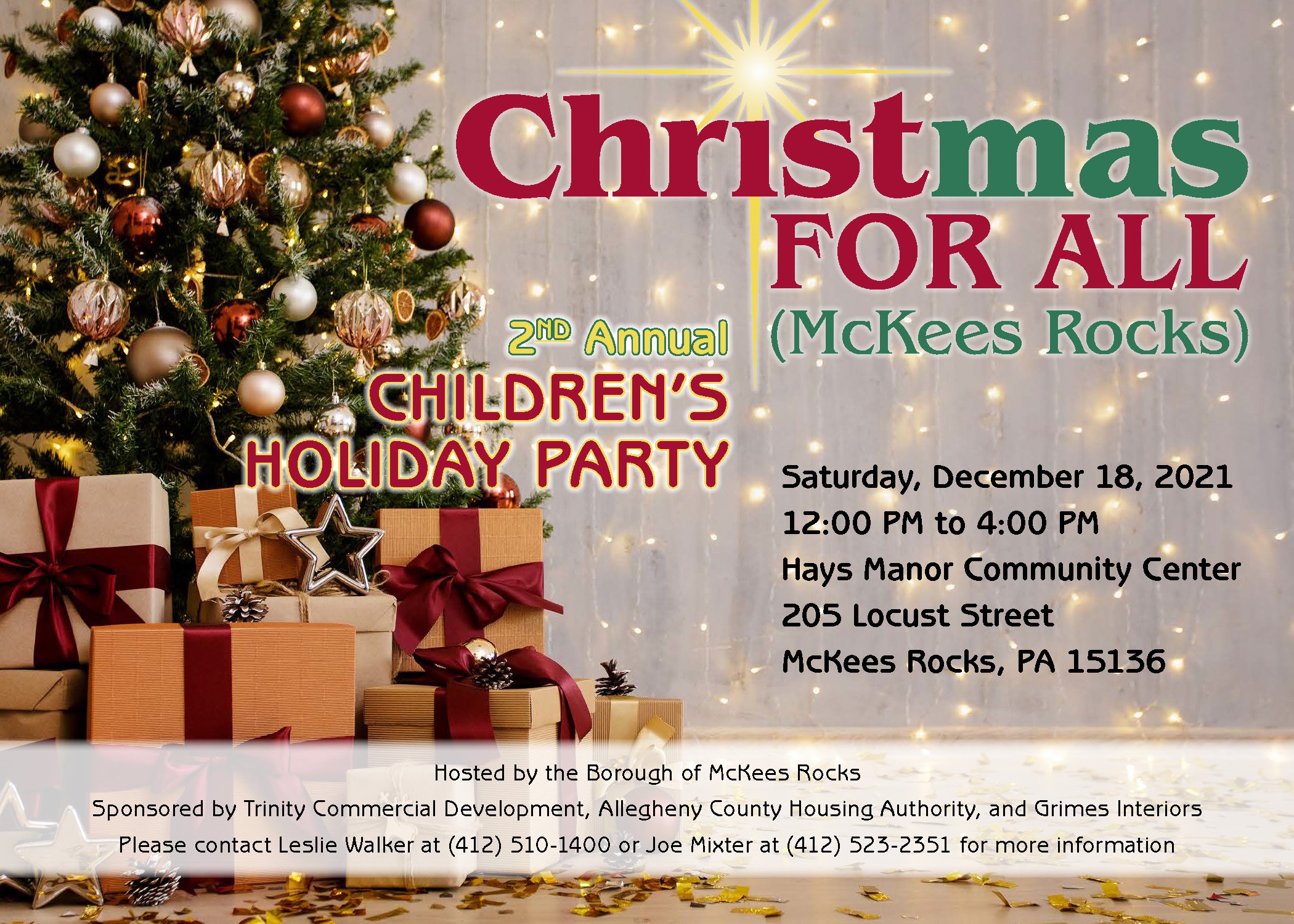 Date:
Saturday, December 18, 2021 -

12:00pm

to

4:00pm
The Borough of McKees Rocks is hosting a Children's Christmas Party and celebrating the Holiday Season with residents of the Hays Manor ACHA Community.  Our goal is to ensure every kid in the Borough gets at least one present from Santa this year. 
 
Please help us spread some Christmas joy and put a smile on a child's face by making a charitable contribution to the event!!!  The party is from Noon to 4 pm on Saturday, December 18th.  On-line donations, however, can only be accepted thru December 1st.
https://ioby.org/project/christmas-for-all   (Click the link to view more information and/or DONATE)
the project
McKees Rocks is a small (5,855 residents) but proud & diverse (44.5% minority) community located just 3-miles from downtown Pittsburgh.  Unfortunately, 31.3% of the population lives in poverty making it very difficult for some families to provide their children with the Christmas that every child deserves.  Children will get the opportunity meet Santa, enjoy a pizza party (with lots of sweet treats), and receive at least one gift.  The Borough has partnered with local businesses & stakeholders to help partially finance the event, but we need your help to make the event a success and reach ALL the children in the community.
Please consider making a tax-deductible contribution using a credit card by entering your donation amount and pushing the "Donate To This Project" button to the right of the page.  Any amount will help make Christmas special for a child and is greatly appreciated.
Our sponsors, Trinity Commercial Development, LLC; the Allegheny County Housing Authority; and Grimes Interiors, have generously agreed to match all donations (dollar for dollar) up to $3,500.  We are hoping to raise a total of $10,000.  100% of the funds received will go towards the event and will be managed by the municipality.   
THANK YOU for your generosity, and please contact Councilwoman Leslie Walker at (412) 510-1400 or Councilman Joe Mixter at (412) 523-2351 if you have questions and/or if you know of a family or child in need.
the steps
The 2nd Annual Children's Holiday Party - Christmas for ALL (McKees Rocks) will be held in the Hay Manor Community Center on Saturday, December 18th from Noon to 4 pm.  Staff & elected officials representing the Borough of McKees Rocks will be in attendance.  Pizza, soft drinks / water, and cupcakes & cookies will be provided.  Gifts will be purchased in advance and will be distributed at the event.  This party will be hosted with COVID safety in mind - we will follow mask and social distancing protocols.
why we're doing it
...because we care about our neighbors, hope to spread Holiday cheer & help get the community in the Christmas spirit, and want ALL the children in the McKees Rocks to enjoy Christmas this year.